1999 Los Angeles Regional Winners: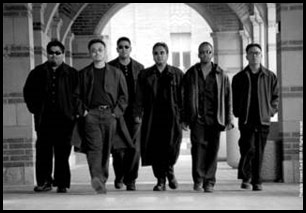 JaÕa
When you think of Ja'a, think deep, "funkafied" harmonies. These six gentlemen give you the power and the blend of soulful music that settles into the heart. Their vocal sounds give a smooth and sophisticated flow to all the songs that they touch. These brothers of harmony have continued to move beyond the boundaries of contemporary sound displaying their musical influences from jazz, R&B, contemporary a cappella, funk, pop, and gospel. The members of Ja'a share the vision of transcending the conventional barriers in music and are prepared for "Just About Anything," the operative theme which characterizes their music, attitudes, personalities, and the essence of Ja©öa. Since their origin at UCLA back in 1995, Ja'a has been acclaimed for their complex harmonies, a knack for vocal instrumentation, and a flair for appealing original arrangements. Their sophisticated sound is a testament to the heart and soul that they invest in their music and performances. Showcasing their versatile style, this sextet has performed from Vegas to LA, San Diego to the Bay and Asia soon on the way. Their spirit and belief in their dream has led to the release of their second CD "Outside the Lines". This group of friends looks forward to sharing their gifts with all who will listen.
1999 Los Angeles Regional: Second Place

Inner Voices
Inner Voices are four top Los Angeles-based session singers led by vocal arranger/founder Morgan Ames. Their new CD is titled "Christmas In My Dreams" on Laurel Record. They have been profiled by Billy Taylor on CBS Sunday Morning, have toured Japan, performed on KCET (Christmas Eve 1998), KTLA Morning News, ABC Home Show, been featured on the innovative TV series My So Called Life. They have performed for President Reagan, the Betty Ford Foundation, have sung and/or recorded with Kenny Loggins, David Benoit, Johnny Mathis, Smokey Robinson, and Carol King. Each Christmas season, they perform their highly acclaimed, sold out a cappella show at Los Angeles' famed Jazz Bakery in Culver City.
1999 Los Angeles Regional: Third Place

Primitive Soul
Primitive Soul, (formerly Pandora's Vox) blends R&B with World Beat and mixes in jazzy harmonies to create original a cappella music that has gotten the attention of AL's live music scene. They've done the Sunset Strip, appearing at The Whiskey-A-Go-Go, The Roxy and The Key Club, as well as Hollywood's Genghis Cohen, and Highland Grounds. Come hear what happens when five people with diverse backgrounds and musical tastes get together!