2009 Chicago Regional Winners: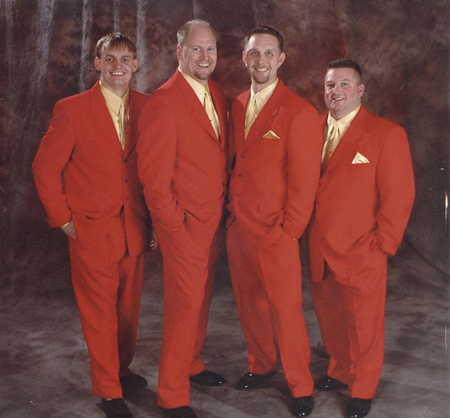 Start with two music teachers, add one preacher, stir in a financial planner, and you could have the basic ingredients for any great quartet, but 3 Men & A Melody is not your basic quartet. 3M&M first formed in the stairwells of the women's dorm at Northwest Missouri State University. (Can you find better acoustics or a better audience?) These four guys have been around for 15 years competing mostly in the Barbershop Harmony Society. Since their first visit to the international stage in 2001, they have consistently placed in the top twenty, and once in the top ten. These guys are highly sought after clinicians for Young Men in Harmony and Harmony Explosions across the country, bringing their passion for a cappella harmony to young people and educators alike. In-house Tenor, Chris Droegemeuller arranges much of 3 Men & A Melody's music to give them the unique sound that best highlights their voices. Get your ears ready for a stage full of a harmonic variety of a cappella jazz, doo-wop and barbershop.
2009 Chicago Regional: Second Place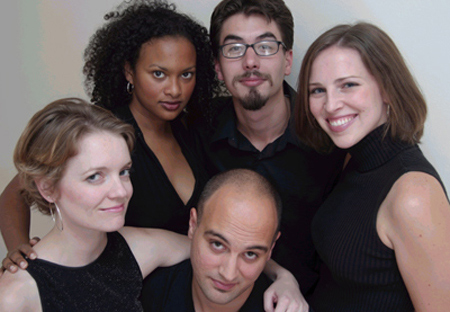 Stripped
Stripped is a vocal band that continues to stretch ideas about what a cappella music can be. Their concerts are highly focused on improvisation, audience participation, and making music that moves the spirit. The voices gathered here have blend and unity, but frequently remind the listener that individual expression can flourish within the context of a group sound, like a single flower enhances the garden with its own particular bouquet and color.

Stripped has performed throughout Chicago, singing original vocal jazz music at the Green Mill, HotHouse, Fitzgerald's, Lyon's Den, Uncommon Ground, Beat Kitchen, and 4th Presbyterian Church. Stripped received awards at the Chicago Cultural Center Cx2 competition and the 2004 Harmony Sweepstakes Regional competition. Stripped opened for jazz and R&B legend Patti Austin in summer 2004. Keep your eyes open for performances coming your way, then open your ears and prepare to be Stripped!
2009 Chicago Regional: Third Place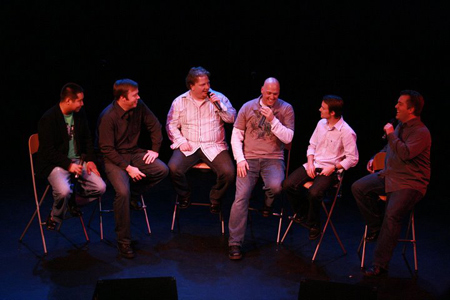 Established in 2005 and named after late-night rehearsals, Up 'til 2 rocks out with unique style. This hard-hitting group of vocalists is indeed a "band." Minimally equipped with their voices and microphones, they cover low to high, and dazzle audiences of all ages. With backgrounds in classical voice, a cappella, rock, musical theater and jazz, each Up 'til 2 member adds a unique element to the band. Their blend of live music and theater will have you laughing to the sounds of current and classic radio hits, Motown, jazz, and funk.