2007 Chicago Regional Winners: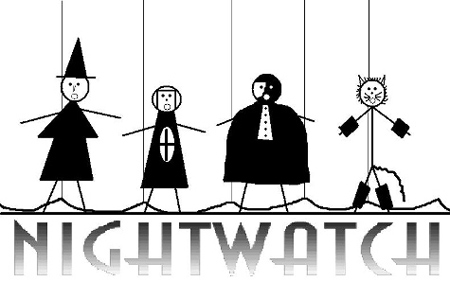 Nightwatch
Nightwatch was formed in 1998 as a result of a lost bet, or at least it seems that way. "Stik" (Fireman - ask to see his Dalmatian), "Flip" (Security pro - he breaks in and cleans out your fridge), "Leo" (Nursing home crooner/heartthrob) and "Nooge" (Nacho cheese pump problems? He's your man!) have been berating each other ever since meeting at a local Sadie Hawkins dance (they were the ones "holding up the wall"). Their consistent refusal to get serious actually paid off in August of 2000 - they were crowned the Buckeye Invitational Comedy Quartet Champions after performing their now infamous (this means 'more than famous', right?) Diner Set© in front of tens of people. Since then, they've hoodwinked their way into a 2001 Division Quartet Championship and a spot in the 2003 Harmony Sweepstakes National Finals. Scores of unsuspecting audience members across the country have made it through a "Nightwatch Experience"; the lucky ones brought a tarp. No matter what the venue, you can expect a wide array of musical styles from this group. What you cannot expect is for them to go to bed early or to have serious conversations with each other, or anyone else for that matter.
2007 Chicago Regional: Second Place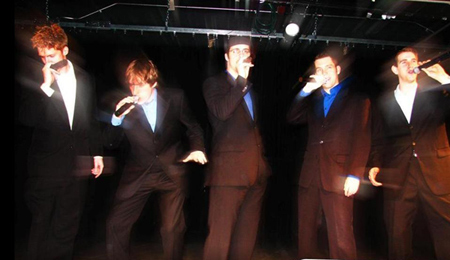 A cappella. It's technically what we do. But we're not your bow-tie barbershop quartet. We're a vocal band. Which means we do more than sing - we perform - engaging audiences in a rich blend of harmonies while entertaining them.
Home Free has performed for a diverse and extensive clientele, ranging from the Minnesota Vikings, to Fortune 500 companies, Celebrity and Norwegian Cruise Lines, Allied Concert touring services, the Dutton Family from America's Got Talent and many, many more. It also devotes its time to educating and encouraging music in the public schools through innovative workshops and concert fundraising. To date, its programs have already raised tens of thousands of dollars for schools in Minnesota.
2007 Chicago Regional: Third Place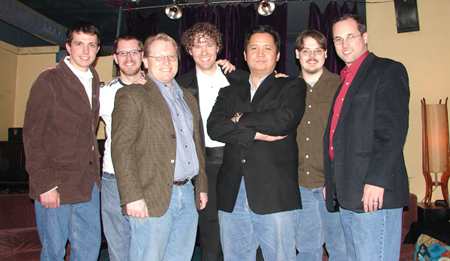 Vocal Chaos is a Chicago-based group that blends a pinch of pop with a healthy splash of rock into an a cappella recipe you've never tasted before. They have performed at Soldier Field for the Chicago Fire, entertained thousands at SeptemberFest in Schaumburg, sung the National Anthem for the World Champion White Sox; If you look quickly, you can see even some of them in the Vince Vaughn movie, "The Break Up." As hosts and producers of AcappellaFest, the Midwest's premiere a cappella festival, Vocal Chaos strives to collaborate with other like-minded bands and organizations to perform and promote the art form of a cappella.