2005 Chicago Regional Winners: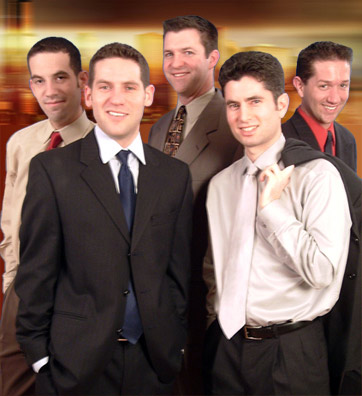 With one amazing performance under their belt, Fiveplay has instantly become Chicago's hottest new vocal group. Combining popular covers, originals, and choral arrangements, Fiveplay's sound runs the gamut of pop, rock, jazz, funk, soul and doo-wop. With their tight harmonies, intricate arrangements, and dynamic solos, you won't believe that the group Fiveplay was born just at the beginning of this year. Individually, these five accomplished singers have entertained audiences from the International House of Pancakes to the Chicago House of Blues, from Lincoln, Nebraska to the Lincoln Center, from the Local 112 to the President of the United States. Together, they create a wall of sound unparalleled in precision and quality. Get ready for Fiveplay! Fiveplay is Aaron Siedband, Brian Siedband, David Reeder, Dave Wagner, and David Wilner. Check them out online at www.fiveplaymusic.com .
2005 Chicago Regional: Second Place

An Octave Above is eight professional vocalists who blend years of experience and a love of a cappella harmony to every style of music they sing. From doo-wop to jazz, standards to madrigals, Bacharach to The Beatles, An Octave Above creates a new standard for excellence on the Chicago music scene. The Chicago Symphony Chorus claims five of the members and the St. Charles Singers claims two; they've earned degrees in music and vocal performance from Elmhurst College, Northwestern University, Northern Illinois University, Bradley University, and the State University of New York (SUNY). For a vocal group that has only been together three years, An Octave Above has quickly established themselves as one of the hottest new a cappella vocal groups in Chicago. In 2003 and 2004, they were the featured performers with the Elgin Symphony Orchestra for their annual "Holiday Spectacular" concert. They have opened for award winning jazz vocalist Dee Dee Bridgewater at the Elmhurst Jazz Festival, sang the National Anthem for the Chicago White Sox game at U.S. Cellular Field and at the United Center for the Chicago Bulls game. They have been featured at performance venues including Fitzgerald's, the Schaumburg Prairie Center for the Arts, Townhouse Books in St. Charles and have also held private performances at Molly Malone's Irish Pub and Skelly & Skelly's in Forest Park, The Galleria Marchetti in Chicago and Orchestra Hall. Inspired by The Real Group, The Swingle Singers, Manhattan Transf
2005 Chicago Regional: Third Place

Four Bettys is an a cappella quartet singing a wide variety of music for any occasion! With a combined 40+ years singing and numerous national and international awards, they share a passion for performing. In October 2004, Four Bettys captured seventh-place in the world at the Sweet Adelines International Competition in Indianapolis, IN. This was the Betty's first trip to international competition, and they were quite pleased to reach the prestigious top ten on their first try. Four Bettys loves an audience, and can accommodate a variety of performance situations including concerts, barbershop chapter shows, special events, serenades, or even drive-by singings. The Bettys have been spotted performing for corporate events, private parties, on Barbershop Shows and singing the National Anthem at a few Cubs games!