2004 Chicago Regional Winners: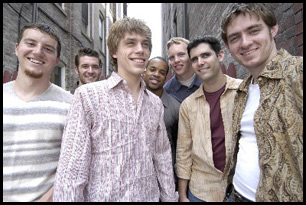 When the men of Chapter 6 began singing together in college, none of them had any idea that in just five years time, they would have performed over 550 concerts in 25 states. As the 2001 International Collegiate A Cappella Grand Champions and three-time winners of the Chicago Harmony Sweepstakes, Chapter 6 quickly made a name for themselves in the a cappella music community. In 2003, the groupís third CD, "Christmastime" was nominated by the Contemporary A Cappella Society for Best Christmas Album and Song. With their tight vocal harmonies, award-winning original arrangements, and diversity of repertoire, it is easy to understand the groupÕs appeal."
2004 Chicago Regional: Second Place

Straight No Chaser was founded in September 1996 by Dan Ponce. He mentioned the idea of an a cappella group to some friends in Singing Hoosiers, and they became the original members of SNC. The group had their first performance in October 1996 at the Dance Marathon. SNC went on to perform at sororities, dorms, and anywhere else they could find an audience. They began recording their first CD, "Straight No Chaser", in October 1997, and it was released in January 1998. In February 1998, they entered the National Championship of Collegiate A cappella. After winning the first round and the semi-finals, SNC flew to the National Championship in New York at Carnegie Hall, placing 2nd. SNC signed on with the Alumni Association in 1998 as their official performing group, In December 1998, SNC released their second CD, "Last Call", then "Live From Alumni Hall" was released in December 1999. After several sponsored tours, the release of "Indiana" in 2000, and the release of "Thank You" in 2002, Straight No chaser is still going strong.
2004 Chicago Regional: Third Place

Strip away the labels, limits, and boundaries and you have an exciting adventure in vocal music. Tonight youÕll hear five award winning vocalists, each bringing a unique style and flair to this cutting edge vocal band. The members of STRIPPED have formed a strong musical bond that gives their sound an unmistakable warmth. They have tremendous freedom to express themselves as outstanding soloists and together they form a whole more powerful than the sum of its parts. They inspire, educate, and often amuse, while also encouraging the listener to sing along. In addition to performing, the members of STRIPPED have founded Breaking Boundaries Inc., a non-profit organization dedicated to helping people find ways to creatively express themselves. Each member brings to the table their years of international performing experience, music education, and spiritual motivation. Through community outreach, clinics, masterclasses, and multimedia workshops, they teach people how to connect with others in new and exciting ways. Our hope is to show each person the joy that comes from finding and following their own inner voice. So open up your ears and prepare to be STRIPPED!