2002 Chicago Regional Winners: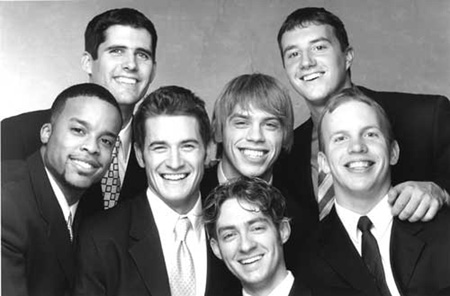 The group's boundless range and appeal has resulted in one of the most diverse touring schedules in the music industry. Whether at an opera house, symphony hall, campus, church, corporate or community event, or aboard a cruise ship, Chapter 6 is right at home. Opera houses are often repeat clients, while the Association for the Promotion of Collegiate Activities' audiences named Chapter 6 "Entertainer of the Year" (2005). Chapter 6 has performed theatrical pops programs with over ten major metropolitan symphony orchestras in association with The Symphonic Pops Consortium, yet returns to the intimate classroom where the group has conducted over a hundred master-classes for high school choirs. Finally, their Christmastime concert is a favorite among churches and arts venues offering holiday programming.
2002 Chicago Regional: Second Place

The group originally came together in the fall of 1996 at IU, basically as "10 guys who happened to be good friends who also liked to sing." Choosing the members carefully for personality as well as vocal talent - Stine, Mechling, Jerome Collins, David Roberts and Walter Chase remain from the original lineup -- SNC set itself apart from other a cappella groups with its contemporary repertoire and dynamic approach, quickly headlining concerts both in Bloomington and on road dates. SNC recorded three independent albums, and John Mellencamp even invited the group to his home for a private performance.

When the founders began graduating in 1999 and went on to jobs mostly outside of music, they chose replacements and established SNC as an ongoing group on campus with future generations of ambitious IU undergrads. More than 50 members have passed through the group's ranks so far. Such was the impact SNC made at IU that the school hosted a 10th anniversary reunion show for the original lineup in 2006, and when Stine posted clips from a 1998 concert on YouTube, SNC's fan base grew exponentially. In 2007 alone, the group's version of "The 12 Days of Christmas" was viewed more than seven million times. Today that number has surpassed 11 million, and the group's cumulative YouTube views clock in at more than 25 million.
2002 Chicago Regional: Third Place

Hot Vox
Hot Vox is a Chicago based acappella group of seven men who collectively have over a hundred years of studio and live performing experience. As individuals they have performed and recorded with such luminaries as Celine Dion, Barbara Streisand, Kenny Rogers, Gladys Knight, Luther Vandross, Dionne Warwick, Ray Charles, Bob Hope, Lee Ann Womack, Bobby McFerrin and Rosemary Clooney, among others. Their acappella and choral credits include performing with and writing for Glad, Voices of Liberty (Epcot), Phil Mattson, Robert Shaw and VoiceTrek (National Harmony Sweeps Finalists 2001). As jingle singers in Chicago, Nashville, Orlando and New York, you have heard their voices on radio and TV commercials representing hundreds of products like McDonald's, Nintendo, Oldsmobile, Kellogg's and Minute Maid. As the group HotVox, their music reflects their love for the soulful sounds of R & B and extended jazz harmonies. A chance to hear them live is sure to be memorable!