2002 Chicago Regional Winners: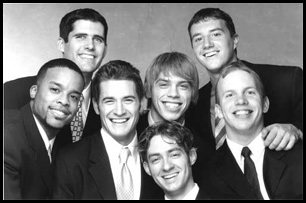 Chapter 6 are the 2001 Grand Champions of The International Collegiate Competition of A-cappella music, as well as Chicago's youngest-ever, Harmony Sweeps Champions, are finally out of college and making their professional debut! Memorable performances include ABC's Good Morning America, Rockapella 's Big Millikin Event, and The University of Michigan's Acappalooza 2001. On the heels of releasing their second CD, Chapter 6 Live!, these six, young men, and their award-winning arranger, Mark Grizzard, have teamed up to share their passion for music, their witty humor, and their message of Hope and Love with their many fans.With original renditions running from jazz to classical, and from gospel to pop-rock, Chapter 6 has been blessed with the opportunity to demonstrate its versatility for a wide range of audiences, including business parties, corporate conventions, college festivals, churches, weddings, opera houses, and regional, high-school tours. Upon the recent graduation of several members from Millikin University, Chapter 6 aims to add musical instruction to its goals, educating students on vocal styles and techniques and inspiring youth to activate their dreams. United, these young men believe in having fun and in entertaining their audiences, while at the same time, maintaining a high standard of musical precision and personal excellence. Together, they hold each other accountable for their belief in Christ, their trust in one another, and their passion fo
2002 Chicago Regional: Second Place

Straight No Chaser, the Indiana University Alumni Association-sponsored men's a cappella group, is proud and honored to be performing in Harmony Sweepstakes. SNC was founded in 1996 and has produced 4 albums (with a 5th, titled "Thank You", to be released at SNC's Spring Concert at the IU Auditorium on 4/27/02) while serving as ambassadors for Indiana University. SNC has performed over 600 shows, including performances of the National Anthem at the internationally televised 2001 Brickyard 400 NASCAR race, as well as Chicago White Sox games and various IU sporting events. SNC has received such prestigious awards as "Best Male Collegiate Album" (Last Call), "Best Male Collegiate Song" (Ghost Train), 2nd place in the 1998 National Championship of Collegiate A Cappella competition in Carnegie Hall. SNC invites you to the "Thank You" CD Release Spring Concert on 4/27/02 at 8pm in the IU Auditorium in Bloomington.