2001 Chicago Regional Winners: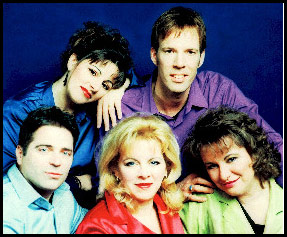 Voice Trek is described by critics as "world class," and is known for superb blend, complex harmonies, and creative musical arrangements. Voice Trek is a well-respected ingredient on the Minnesota music scene, and is a two-time winner of the Minnesota Music Award's "Best swing and mainstream jazz vocal group". This vocal quintet was formed in 1987 and continues into its fourteenth year with all the original members. Voice Trek consists of three sisters, Shelley (Soprano), Vicki (Second Soprano), and Rae Plaster (Alto), Denis Allaire, (Music Director/Tenor) (a brother-in-law), and Kevin Smith (Bass), (a brother by association!). This "family" of singers has an eclectic repertoire, including jazz, classical, sacred, folk, parodies, and children's favorites. They have toured nationally and internationally, (including Montreal & Montreux) presenting concerts and conducting jazz residencies. Until last year, the group worked with a five piece instrumental backup band. This past year Voice Trek ventured into the exciting, fulfilling world of a cappella singing.
2001 Chicago Regional: Second Place

After nearly 10 years of singing together, Three Men and A Tenor are riding high from a very successful season marketing their holiday CD, "You Better Watch Out!". It was produced by Paul Cooper, the founding member and lead singer of "The Nylons" from 1978-1992. Paul was almost completely out of the music business, when TMNT called him in to produce the album and make musical/staging improvements. The group, and Paul, are going back into the studio in July/August to put together a new CD, and just completed editing a video that they hope to start selling this summer. The combination is working exceptionally, and the efforts towards producing the highest quality show are paying off. TMNT continues to spend about 60% of it's time in schools/universities performing high-energy a cappella, and advising young people about what it takes to make your dreams into your career.
2001 Chicago Regional: Third Place

elmoTHUMM
Who is elmoTHUMM? elmoTHUMM is a group of contemporary a cappella musicians based in Michigan. Now a quintet, including Greg Vaden, Jason Miller, Adam Westmoreland, Ed Pendleton & new-comer Paul Ellinger, elmoTHUMM is ready to take its show on the road in 2001. Perfect for school events, corporate functions, fairs, festivals, & anywhere there is a need for great a cappella entertainment, elmoTHUMM is sure to please. This will be elmoTHUMM's fourth appearance at the Chicago Harmony Sweepstakes and as always look forward to having a great time.