2001 Chicago Regional Winners: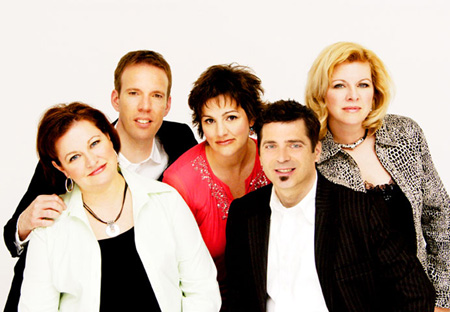 Voice Trek has been thrilling listeners with their impeccable vocal skills since 1987. Their astonishing adaptability and inventive arrangements have defined this vocal quintet as one of the topmost in their genre. Based in Minnesota, the all-original members of Voice Trek are Shelley, Vicki, and Rae Plaster - three sisters who are known for their dazzling vocal mix; the group's tenor, Denis Allaire, specialist in vocal percussion and vocal instrumental sounds; and bringing up the bass is the dynamic Kevin Smith - the irreplaceable bottom line.

A multitalented and prolific group with numerous CD's in their catalog, Voice Trek has appeared in performance venues around the globe. Voice Trek's newly released CD "An A cappella Trek" is already receiving enthusiastic reviews from fans and critics alike.
2001 Chicago Regional: Second Place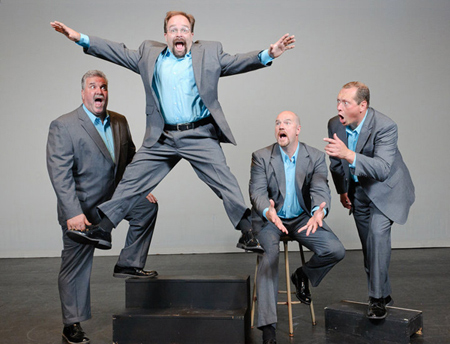 For 19 years, Paul, Chuck, Mark and Glenn, have been winning over audiences in so many ways. With almost 2.500 performances, including sharing the stage with American legends like Chuck Berry, Dionne Warwick, Bob Newhart, Peter Cetera, Pat Boone, Lee Greenwood and The Beach Boys, 3MT has also been featured national entertainment for corporate conventions and conferences, as well as major festivals and fairs.

Paul, Chuck, Mark and Glenn formed a vocal group expecting to sing only one song together at Michigan State University to help fill concert time in a men's chorus concert. Since that very humble beginning over 18 years ago, these guys have had some amazing musical moments. In 2006, Three Men and a Tenor was voted the "Best Entertainment in Michigan", and the group is loved all over the world.
2001 Chicago Regional: Third Place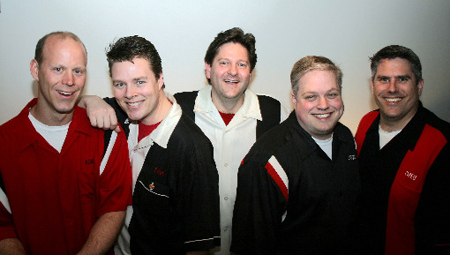 elmoTHUMM
Who is elmoTHUMM? elmoTHUMM is a group of contemporary a cappella musicians based in Michigan. Now a quintet, including Greg Vaden, Jason Miller, Adam Westmoreland, Ed Pendleton & new-comer Paul Ellinger, elmoTHUMM is ready to take its show on the road in 2001. Perfect for school events, corporate functions, fairs, festivals, & anywhere there is a need for great a cappella entertainment, elmoTHUMM is sure to please. This will be elmoTHUMM's fourth appearance at the Chicago Harmony Sweepstakes and as always look forward to having a great time.