2000 Chicago Regional Winners: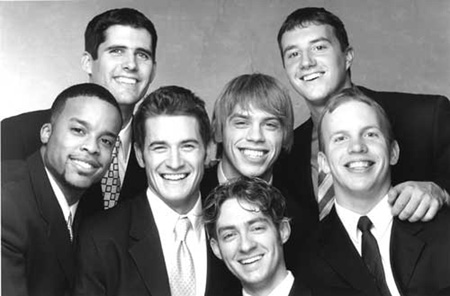 The group's boundless range and appeal has resulted in one of the most diverse touring schedules in the music industry. Whether at an opera house, symphony hall, campus, church, corporate or community event, or aboard a cruise ship, Chapter 6 is right at home. Opera houses are often repeat clients, while the Association for the Promotion of Collegiate Activities' audiences named Chapter 6 "Entertainer of the Year" (2005). Chapter 6 has performed theatrical pops programs with over ten major metropolitan symphony orchestras in association with The Symphonic Pops Consortium, yet returns to the intimate classroom where the group has conducted over a hundred master-classes for high school choirs. Finally, their Christmastime concert is a favorite among churches and arts venues offering holiday programming.
2000 Chicago Regional: Second Place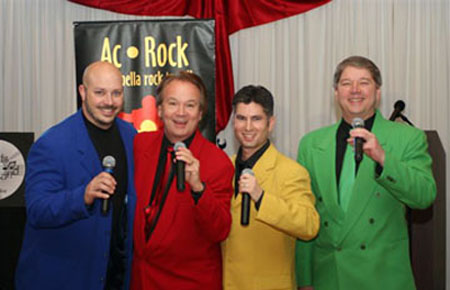 Ac Rock is one of America's great a cappella quartets, singing classic rock 'n roll favorites from the 1950s through the 1980s. Ac Rock sings boomer rock in stunning vocal harmony without instrumental accompaniment. It's an engaging mix of tightly-crafted music and freewheeling humor that pleases audiences of all ages. Ac Rock performs for corporate events, conventions, industrial shows, charity auctions and stunt marketing events all over the country. Centrally based in Chicago, Ac Rock has easy access to all parts of the US and Canada. Summer festivals, school shows and private parties, too. Ac Rock is the right group for your group.
2000 Chicago Regional: Third Place

Blue Skies
Blue Skies, consisting of Patti Lupo, Susan Prischmann, Paul Zimmerman, and Greg Jasperse, has been performing in the Chicagoland area for 3 years. This versitile group has played the Taste of Chicago, festivals, corporate functions, Broadway nights and Oscar parties. Their love of vocal music and group singing brought them together, and during the month of December they sing with the acclaimed Christmas group, The Caroling Party. While not performing with Blue Skies, these singers work in all aspects of music...recording, arranging, teaching, theatre, bands and concert work.