2008 Boston Regional Winners: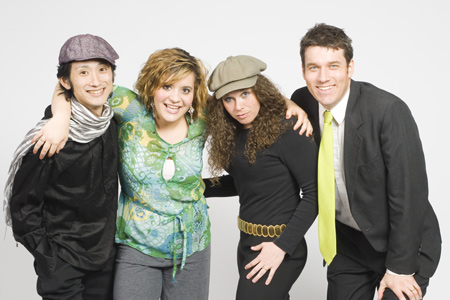 The Boston Globe calls Syncopation "the 21st Century Manhattan Transfer or Lambert, Hendricks and Ross" and it is easy to see why. Like those legendary vocal groups, Syncopation performs jazz and pop music in four-part harmony with a style that is both timeless and up-to-the-minute. As an added treat each of the singers also plays an instrument or two like trumpet, trombone piano and percussion providing the excitement of a band much larger in size.
You may have seen Syncopation on WBZ-TV singing with the Boston Pops on their 4th of July Fireworks Spectacular (2009). The group often performs with instrumental accompaniment of piano, bass and drums, but they are equally renowned for their a cappella singing, which has earned them regional and national awards from Harmony Sweepstakes.