2008 Boston Regional Winners: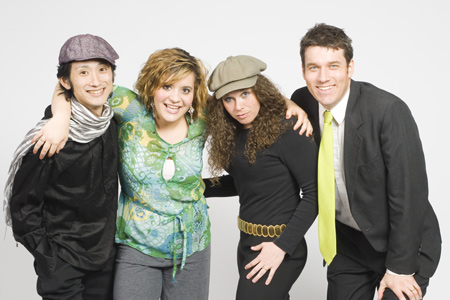 The Boston Globe calls Syncopation "the 21st Century Manhattan Transfer or Lambert, Hendricks and Ross" and it is easy to see why. Like those legendary vocal groups, Syncopation performs jazz and pop music in four-part harmony with a style that is both timeless and up-to-the-minute. As an added treat each of the singers also plays an instrument or two like trumpet, trombone piano and percussion providing the excitement of a band much larger in size.

You may have seen Syncopation on WBZ-TV singing with the Boston Pops on their 4th of July Fireworks Spectacular (2009). The group often performs with instrumental accompaniment of piano, bass and drums, but they are equally renowned for their a cappella singing, which has earned them regional and national awards from Harmony Sweepstakes.
2008 Boston Regional: Second Place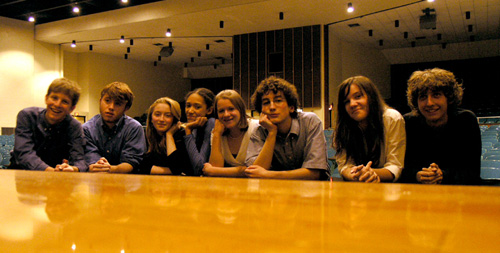 5-Alone
The idea of 5-Alone was conceived in the fall of 1999. I approached four students about starting a jazz a cappella quintet with myself as the fifth member. Encouraged by the succss of our first performance, we continued singing throughout the spring and debuted officially as 5-Alone at the Iron Horse in June, 2000.
Now 5-Alone is an accredited performing arts class at PVPA. We've come a long way from the days of rehearsing at lunch and after school. 5-Alone has gained a considerable amount of attention in a very short time. Awards and honors have been piling up from DownBeat Magazine, C.A.S.A., A-Capella.com, The National Harmony Sweepstakes, R.A.R.B., Primarily A Cappella, Berklee College of Music, and the I.A.J.E. 5-Alone has performed all over the world, including New York, California, and The Netherlands, and has turned the world of high school a cappella upside down.
2008 Boston Regional: Third Place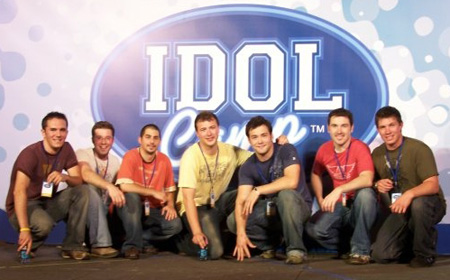 Founded in the spring of 2006 by current director Nicholas Girard, Overboard is a male a cappella group from Boston, MA. Although Overboard's repertoire consists primarily of contemporary pop/rock songs, including covers from such artists as Rascall Flatts, Stevie Wonder and The Beatles, the group remains true to its a cappella roots and continues to perform classic selections such as "Blue Moon," "In The Still of the Night" and "Stand By Me."

First conceived as a street performance group intent on entertaining audiences around coastal New England during the summer months, Overboard has come a long way in a short time. The group's first album, Shipwrecked, was recorded in Nick's living room and was released during that first summer. Shipwrecked was distributed during frequent busking stops in Newburyport, MA; Freeport, ME and Burlington, VT, as well as around the group's hometown of Boston.