2004 Boston Regional Winners: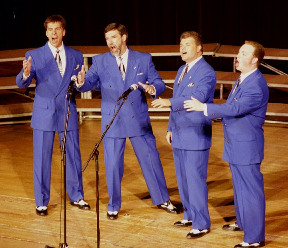 Road Show
Since Formed at the start of the new millennium, Road Show has competed and entertained audiences from Halifax, Nova Scotia to Portland, Oregon and everywhere in between. While their roots lie in the barbershop style, they love to dabble in jazz, blues, and contemporary music. And although the group likes to experiment with various musical styles, entertaining audiences is always at the top of their priority list. Despite their youthful vigor and an average age of "just-over-30-something," (thanks Rick!), Road Show has amassed more than 100 years of combined acapella singing (most of them started as kids)! They have been fortunate in their travels to share the stage with the likes of Rockapella, The Smothers Brothers and former National Harmony Sweepstakes Champions, Perfect Gentleman and Metropolis. Currently, they are New England1ŕ4s highest ranking International Barbershop Quartet.
2004 Boston Regional: Second Place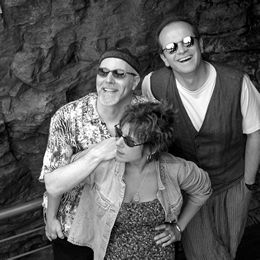 What is F'loom? F'loom is an avant cappella vocal trio that presents cutting-edge programs of "language music" original pieces that inhabit the fertile, mysterious realm that lies between pure language (speech) and pure music (song). F'loom performs original all-vocal compositions seething with satire, social commentary, pop diatribe, slap, zap, melody, poetry, and comedy. F'loom's eclectic repertoire runs the gamut from classical to avant-garde, celtic to jazz, medieval chant to post-post rap. Whether they are f'looming on the World Wide Web, cable TV, Julia Roberts, The Beatles, or Finnegans Wake, F'loom's wizardry, irreverent humor and astonishing vocal virtuosity shine through! F'loom has appeared with such prominent artists as Eric Bogosian, Lily Tomlin, Christine Lavin, The Bobs, Margaret Atwood, Paul Metcalf, Moxy Fruvous, David Francey, Laura Smith, and Jesse Winchester. In principio erat Verbum, et Verbum erat apud Musicum, et Musicus erat Verbum
2004 Boston Regional: Third Place

Fretless a mixed voice quintet with a repertoire of jazz, pop, and classical pieces, made its debut in June, 1999. The group blends the soprano, alto, tenor, baritone and bass voices of five multi-talented singers who have appeared with many other jazz and classical ensembles, performing for audiences in the Greater Boston area, across the country, and internationally. "Fretless" chose its name to represent the musical freedom – and challenge – of making music with a fretless instrument, the voice. (Frets are the metal strips on the fingerboard of a guitar or lute which limit those instruments to a finite number of accurately tuned pitches.) The singers have mastered an eclectic repertoire which demonstrates the flexibility of the human voice, provides a varied program of musical pieces, and is lots of fun to sing.