2003 Boston Regional Winners: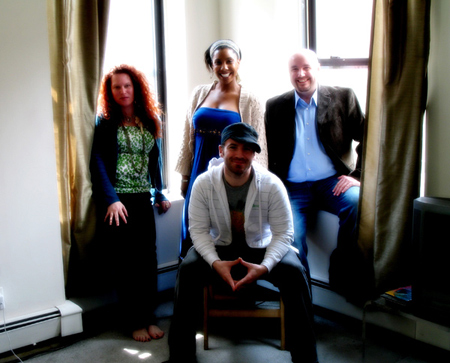 All About Buford is a pop-funk vocal band from Boston, New York City and Philadelphia who switch seamlessly between an a cappella format and an acoustic guitar format, delivering pure vocals, complex arrangements, and intricate harmonies. The rhythmic background of AAB is the complex vocal percussion (beatboxing) of Del Coy, who simultaneously does percussion AND bass. You might not believe the sound is being created vocally, but there are no drum tracks! Performing an eclectic mix of covers and originals, All About Buford has been described as both sexy AND sophisticated. They have performed steadily at venues large and small since their inception in 2000, and were the 2003 Boston Regional Harmony Sweepstakes champions (runner-up in 2002). All About Buford does a high-energy, surprising show that gets an audience involved.
2003 Boston Regional: Second Place

Northeast Connection
Northeast Connection presents barbershop quartet music in a style reminiscent of the vaudeville era. Precise harmonies and beautiful old songs, wrapped up in an entertaining and folksy package are the trademark of this quartet. Since this foursome began singing together in 1996, they have won the Northeastern District Quartet Championship, and represented the Northeastern District four times at the SPEBSQSA International Contest and Convention. Their personnel comes to the table with a combined total of over 50 years of entertaining audiences all over the country. Be sure to take time to introduce yourself to Northeast Connection. They are, quite simply, four pretty good guys who love to meet new folks!
2003 Boston Regional: Third Place

From the Edge
From the Edge is a female foursome that sings a variety of a cappella music--usually in the barbershop style. They have performed all over the New England area and have recently released their first CD. Lynne Morgan, tenor, from Fairfield, CT, is an illustrator; Penny Schroeder, baritone, from Trumbull, CT, is a medical transcriptionist; Sue Broudy, lead, from Weston, CT, worked in the field of advertising; and Marion Devokaitis, bass, from Farmington, CT, is a retired elementary school teacher. The group is presently the North Atlantic Regional championship quartet of Sweet Adelines International, and is honored to have been chosen to participate in tonight's event.