2003 Boston Regional Winners: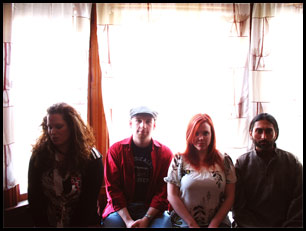 All About Buford wants you to get up, work your groove thang, and laugh your butt off! With a repertoire that infuses jazz, pop, funk, and comedy - their goal is for you to hear new and exciting music, have a great time and join in on the fun! At only 3 years old, All About Buford has already won critical praise and awards: the 2003 Boston Regional Harmony Sweeps winners have performed with Wayne Brady and the acappella legends The Persuasions. Jerry Lawson of the persuasions said: "you're going to go down in the history books!" Recently, they've won in the Acappella Community Awards: runner-up for Best Lead Female Vocal (Taunia Soderquist), runner-up for Best Lead Male Vocal (Shah Salmi), and Best World/Folk Band. With the addition of newest member vocal percussion guru Wes Carroll, All About Buford hopes that things will only get better!
2003 Boston Regional: Second Place

Northeast Connection
Northeast Connection presents barbershop quartet music in a style reminiscent of the vaudeville era. Precise harmonies and beautiful old songs, wrapped up in an entertaining and folksy package are the trademark of this quartet. Since this foursome began singing together in 1996, they have won the Northeastern District Quartet Championship, and represented the Northeastern District four times at the SPEBSQSA International Contest and Convention. Their personnel comes to the table with a combined total of over 50 years of entertaining audiences all over the country. Be sure to take time to introduce yourself to Northeast Connection. They are, quite simply, four pretty good guys who love to meet new folks!
2003 Boston Regional: Third Place

From the Edge
From the Edge is a female foursome that sings a variety of a cappella music--usually in the barbershop style. They have performed all over the New England area and have recently released their first CD. Lynne Morgan, tenor, from Fairfield, CT, is an illustrator; Penny Schroeder, baritone, from Trumbull, CT, is a medical transcriptionist; Sue Broudy, lead, from Weston, CT, worked in the field of advertising; and Marion Devokaitis, bass, from Farmington, CT, is a retired elementary school teacher. The group is presently the North Atlantic Regional championship quartet of Sweet Adelines International, and is honored to have been chosen to participate in tonight's event.