2002 Boston Regional Winners: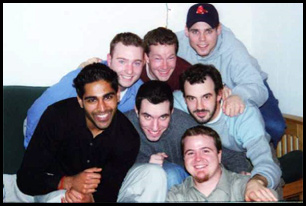 Groove
Groove is Boston's newest acappella sensation. Formed in December of 2001, this seven man vocal band specializes in arranging and performing pop/rock songs in a contemporary style. Though this lineup is new, individually, Groove's members have performed in over 2000 acappella shows as past and current members of: Binghamton Crosbys, Buffalo Chips, Boston College Acoustics, Boston College Bostonians, UMASS Doo wop Shop, The Gentlemen of UNH, Jyde, Four Shadow, The Hyannis Sound, Jigsaw and Five o'Clock Shadow. This exciting new septet strives to combine a high level of musicality with a vibrant stage energy
2002 Boston Regional: Second Place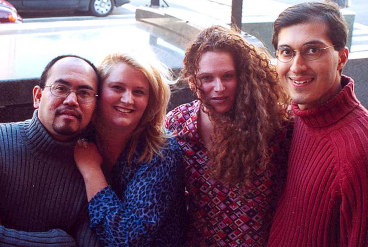 Formed in April of 2000, All About Buford is a mostly a cappella band. All 4 members have completely different backgrounds and musical interests. There's the jazz singer, the Malaysian pop singer/former TV child star, the guitar-totin' singer-songwriter, and the World Music vocal percussionist. Genres are mixed and matched, sometimes within a song! Therefore, you ll hear: R&B, pop, jazz, world music, and contemporary acoustic music. You ll also hear them use occasional guitar, and some hand percussion. Performing an eclectic mix of originals and covers, All About Buford delivers a high-energy, surprising show.
2002 Boston Regional: Third Place

The Works
The Works is a five-part a cappella group, three men and two women, founded in 1994. Comprised of former college chorus dropouts trying to resurrect their vocal chords in what some people call middle age, The Works performs an eclectic (trying to live up to the group title) mix of contemporary close harmony, from the B-52s to Gershwin, from Ricki Lee Jones to James Brown. Based in Hyannis, Wenham, Sherborn, Concord and Wellesley, we ve performed in a wide variety of settings, from intimate anniversary parties to business meetings with large gatherings of 3,000 people in a room to empty squash courts (unbelievable acoustics). The group is characterized by an absence of conflict in rehearsals, perfect pitch, and a subliminally brilliant marketing approach that swayed the French Harmony Sweepstakes judge to select us for the upcoming competition.