2000 Boston Regional Winners: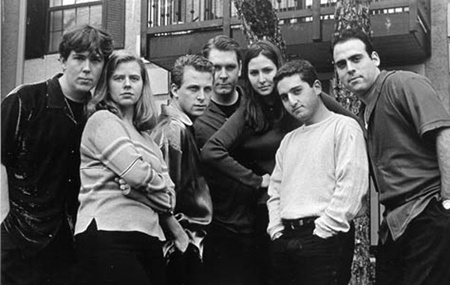 Live Wire
LiveWire is the pre-eminent vocal rock sensation out of Atlanta, GA. Since 1998, these seven talented musicians have been thrilling Atlanta TV, radio and live audiences with their unique "rock-band-without-the-band" sound: they perform musically accurate arrangements of rock songs with only one instrument -- the human voice. Their shows combine jaw-dropping musicality, contagious high energy, and a pinch or three of wackiness. They have entertained thousands of people around the Atlanta area, appeared all over the Atlanta media -- from morning news magazine appearances on the local NBC and FOX affiliates to news appearances on FOX, CBS, and ABC to radio appearances on 99X (WNNX FM - Atlanta's modern rock radio station) and Magic 96.7 (WMKJ-FM) --and are just as comfortable performing in a raucous club setting as they are in an intimate corporate cocktail party.
2000 Boston Regional: Second Place

SoRare
SoRare is thrilled to be competing once again in the Harmony Sweepstakes! Since last year¹s competition, we've had the pleasure of appearing at various venues throughout New England including: Stellar A Cappella, A Cappella Gold, Bridgewater's 4th of July Celebration and several area shows. We¹ve added some cool modern arrangements to our repertoire and look forward to sharing them with you.
2000 Boston Regional: Third Place

After Eight
After Eight is a male a cappella group comprised of graduates from Colby College in Waterville, Maine. The guys range from the class of '90 to the class of '96, and they all sang in the male a cappella group on campus called The Colby Eight. Now all living in the Boston area and holding onto day jobs, they get together weekly to rehearse and enjoy this chance to continue to sing together. They have had a variety of performance venues around New England and beyond over the past five years, including First Night Annapolis (MD), First Night Providence (RI), shows in Brattleboro, VT, Worcester, MA, Cape Cod, and ­ of course ­ central Maine. They are happy to be returning to the Harmony Sweepstakes and look forward to another fun evening of a cappella music.