1999 Boston Regional Winners: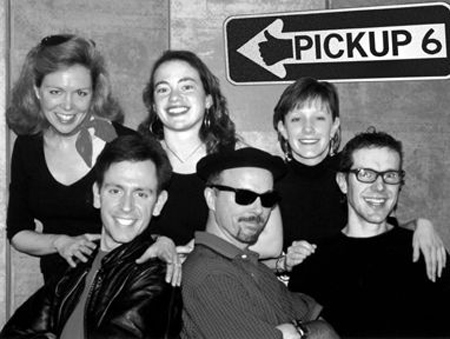 Pickup 6
At the crossroads between swinging jazz, sultry soul, and upbeat pop, Pickup 6 delights and entertains audiences with a high-energy a cappella sound. Since 1996, we have journeyed down the musical highway, constantly straddling the double- yellow line between sophistication and fun. Most of our arrangements are by members of the sextet, including standards like "Route 66," blustery, heated ballads like "Fever," or more off-beat fare like "You Never Give Me Your Money" and "Cool" from West Side Story. Performing at jazz clubs and private parties, or spending long nights rehearsing or producing new arrangements, we find joy, challenge, companionship and inspiration in our singing.
1999 Boston Regional: Second Place

SoRare
SoRare is thrilled to be performing once again in the Harmony Sweepstakes! Since last year's performance here at Tufts University. We have had the pleasure of appearing at various venues throughout New England. Some of our engagements included: Boston's Hampshire House (water glasses on a silver tray), many restrooms and stairwells (great acoustics), various restaurants (a quartet has to eat), and Bridgewater's Fourth of July celebration (a guaranteed standing ovation). Having seen too many Hollywood musicals as children, we keep waiting for passersby to burst into song and follow us dancing through the streets, but, as of this date, we have attracted only one cat in heat and several howling dogs. Nevertheless, SoRare's Karen Christofi, Jannis Moylan, Donna Manoogian and Arlene Isaac will continue to sing wherever and whenever the opportunity arises and we look forward to sharing our "joyful noise" with you this evening.
1999 Boston Regional: Third Place

Faith in Action
Faith in Action is a women's a cappella group, combining gospel and jazz with a variety of musical backgrounds and intricate original arrangements. Founded in March, 1996, the ad hoc group sang the same song (Sweet Honey in the Rock's, "We Are") over several months for church-related events, culminating in a performance at Madison Square Garden in August, 1996 for church members from the District of Columbia to Maine. After Madison Square Garden, they decided maybe God had a plan for the group, and maybe it was time to learn more than one song. They chose a name, added another member, and learned some original tunes. In the Spring of 1997, Faith in Action started getting connected with the Boston a cappella community, and joined other groups in local performances, including a cappella showcases, clubs (Johnny D's and Ryles), and the 1997 East Coast A Cappella Summit.