Current Bay Area Regional Champions: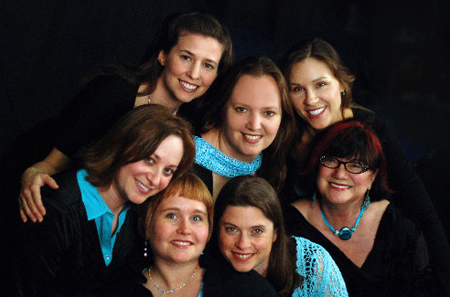 Founded in 1996, Solstice is a female vocal ensemble specializing in music written by women or for women's voices. Our music spans many different genres with an emphasis on world, classical, pop, and jazz. We are also committed to performing new works for women's voices and regularly compose, commission, and arrange new songs.

Solstice has performed in many Bay Area venues including Freight and Salvage, La Pena, the San Francisco Community Music Center, Music on the Hill, the Berkeley Arts Center, Trinity Chamber Music series, and Villa Montalvo. Solstice has also performed on KALW's Folk Music and Beyond On-Air Folk Festival. Solstice was a featured performer at the 2001 West Coast A Cappella Summit along with nationally known groups such as the Bobs and M-pact. At the 2007 San Francisco Regional Harmony Sweepstakes, Solstice was awarded 1st Place and Becca Burrington's arrangement of Joni Mitchell's "Blue" won Best Original Arrangement. Solstice ranked 3rd at the 2007 Harmony Sweepstakes National Competition.