2009 Bay Area Regional Winners: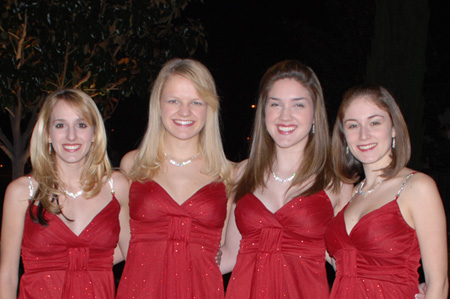 Love Notes - (the artists formerly known as UnderAge) are a group of four young ladies (ages 18-21) singing a cappella 4-part harmony, mostly in the barbershop style. They have been working, competing, and performing together for six years. They have had performing opportunities beyond their years. As UnderAge they became the 2005 International quartet champions for the Young Women in Harmony division of the Sweet Adelines organization. As champions, they have been guest performers all over the country from Oregon to Detroit to Rhode Island. They have shared the stage with the Kingston Trio, sung the National Anthem for numerous professional sporting teams, participated in America's Got Talent in both Los Angelas and Las Vegas, and were guest performers in Germany this last Spring for BING (Barbershop in Germany) festival. LoveNotes also performs for numerous local events throughout the year. As of 2008 they have matured into young ladies over 18 hence the name change to LoveNotes which expresses their love of music. They are exploring numerous a cappella styles which they very much enjoy. They are very commited to excellence in their craft and hope you enjoy them.
2009 Bay Area Regional: Second Place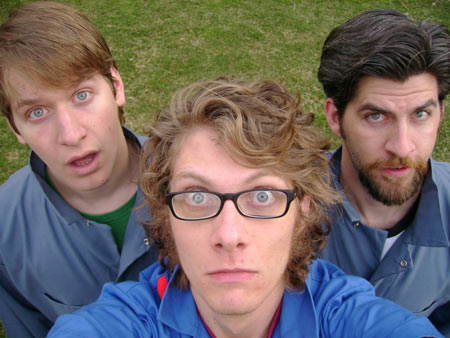 Plumbers of Rome
While serving as court musicians/crepe chefs at the court of Charles VII in the 13th century (they were not allowed to serve as the Royal Plumbers, since plumbing was at that time considered to be a form of witchcraft) the Plumbers of Rome invented a device to hurl food and concert T-shirts into the starving peasant section of the King's Concert Hall. Adapted for military use, and named the Trebuchet, this modest invention lead the French army to many victories, as well as adding to the festive atmosphere of French wedding receptions and modern day Renaissance Festivals. While history has all but forgotten the inventors of the Trebuchet, the Plumbers are commemorated in the traditional French carol ballade de l'arme romaine aim»e de plombier.
2009 Bay Area Regional: Third Place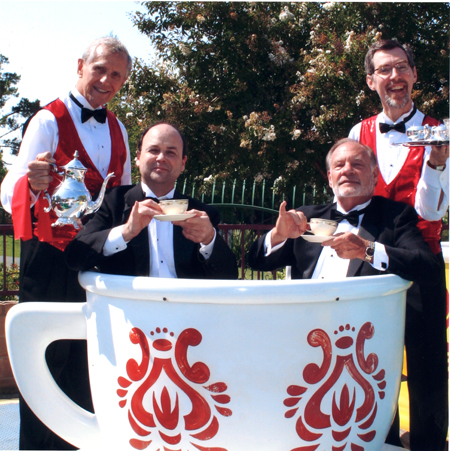 HouseBlend is an a cappella male quartet performing its own pop, jazz, seasonal, folk, country, gospel and other assorted musical genres. The members of the group met through the music ministry at Concord United Methodist Church. As they sang together, they realized something special was developing. In 1998, HouseBlend was born. Almost immediately, they were in demand to sing at various occasions in the area. Their repertoire expanded with each performance, their style emerged and their sleek presentation unfolded.