2006 Bay Area Regional Winners: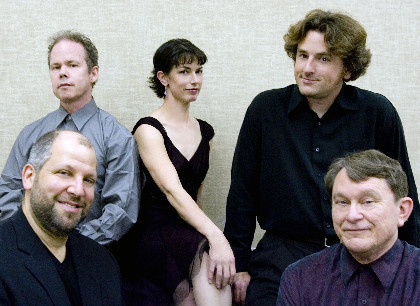 With influences drawn from Chet Baker, Charlie Parker, John Coltrane, Gene Puerling, Phil Mattson, and many others, Clockwork's performances range from beautiful ballads to complex, harmonized bebop lines normally only performed by an experienced saxophone section. From straight-ahead jazz to sweet ballads to hard swinging standards, these five voices make the listener forget that there are no instruments playing. Clockwork is a quintet of musicians who happen to sing. With their own arrangements of jazz from standards to be-bop with interesting, unexpected surprises, this award-winning vocal group is the coolest, newest sound in jazz. Clockwork has taken the West by storm and is not to be missed in the jazz world. In addition to being experienced performers, Clockwork, individually and collectively, has extensive experience in hosting and participating in educational workshops on a range of topics that include arranging for voices, solo interpretation, small group singing, microphone technique, and improvisation.
2006 Bay Area Regional: Second Place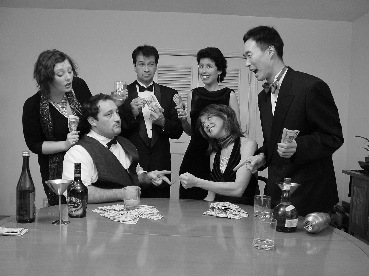 Ro Sham Bo is named after a popular hand game often used as a selection method in a similar way to coin flipping or drawing straws to select a person for some purpose. When Ro Sham Bo tours in Japan or Brazil, we're called Jan-Ken-Pon, but Philippinos call us Jack-n-Poy because they're cool. In England we're called Scissors-Paper-Stone because there's no Rockhenge, silly. In South Africa, the mildly offensive Ching-Chong-Cha. In Latvia we're called Akmens- res-Pap r ts because of the catchy rhyme, "akmens, res, pap r ts, viens, divi, tr s." Caligula called us Saxum-Charta-Forfex, but in those days forfex beat everything because of the excitement over the newly invented scissors. Biologist Barry Sinervo from UC Santa Cruz discovered the Ro Sham Bo evolutionary strategy in the mating behavior of the side-blotched-lizard species Uta stansburiana. When we're not drinking during rehearsal, mating or playing Ro Sham Bo, we sing nicely. And we look for basses. If you know any basses or side-blotched-lizards, or if you are one, please contact us at RoshamboSings@yahoo.com.
2006 Bay Area Regional: Third Place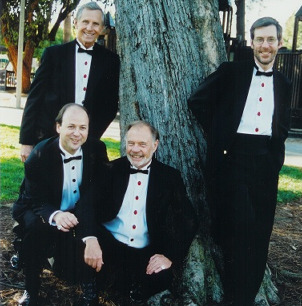 House Blend
HouseBlend has been performing throughout the East Bay for over seven years. Its understated motto, "Four Guys---We Sing," belies its wide and varied repertoire. HouseBlend consistently leads its audiences on a musical tour de force: always expressivo, ma non troppo; con grandioso, but tempered with dashes of dolce et delicato; risoluto in its furioso; animato in its passionato; and far too often, with basso glissando at the grand finale. We hope that you will enjoy the sound of HouseBlend, subito, or poco a poco, and its playful persona.