2005 Bay Area Regional Winners: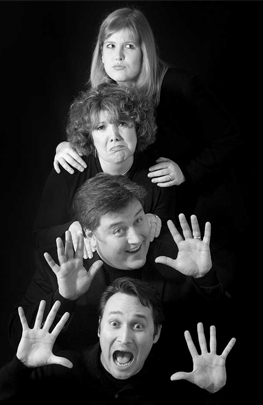 Mood Swing
Moodswing is the newest configuration of some of the Bay Area's most moody jazz singers. Sweeps award winners and +4db founders Dave Duran and Juliet Green have put aside their differences to team up with mercurial couple Paul and Julie Ford of the Renaissance-Jazz sextet Without Measure. They have sung together, in brief stints in such groups as InFusion, Vocal Flight, Vocal Underground, Oarkland Jazz Choir, Siemens Microelectronics Stealth Band, and on Ward Swingle's Instructional video "Swingle Singing." Combined, Moodswing brings almost 20 years of community college vocal jazz experience to each performance. Photos, mp3s, and anger management techniques are available at www.moodswing.us.
2005 Bay Area Regional: Second Place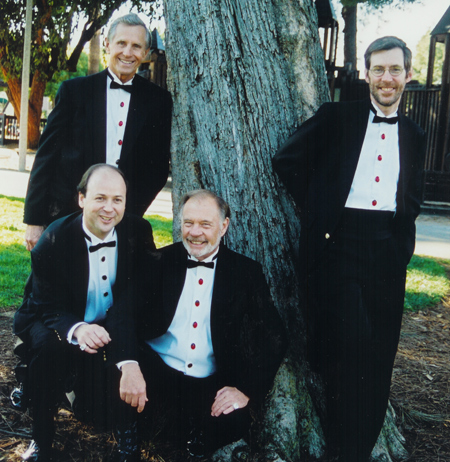 HouseBlend is an a cappella male quartet performing its own pop, jazz, seasonal, folk, country, gospel and other assorted musical genres. The members of the group met through the music ministry at Concord United Methodist Church. As they sang together, they realized something special was developing. In 1998, HouseBlend was born. Almost immediately, they were in demand to sing at various occasions in the area. Their repertoire expanded with each performance, their style emerged and their sleek presentation unfolded.
2005 Bay Area Regional: Third Place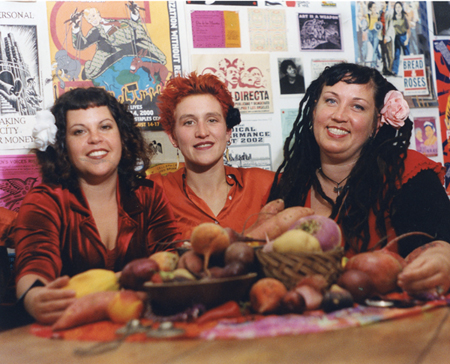 Samsara
'Samsara' is an A Cappella women's trio who unite fierce, extraordinary vocal music with passionate struggles for justice. They strive to connect the music of struggle, freedom and tradition, creating the new generation of the culture of resistance and empowerment. 'Samsara's' repertoire ranges from traditional folksongs, sea songs, worksongs and spirituals with new arrangements, to original music on current issues, all with tight, searing, dissonant and bittersweet harmonies and intricate vocal percussions.