2005 Bay Area Regional Winners: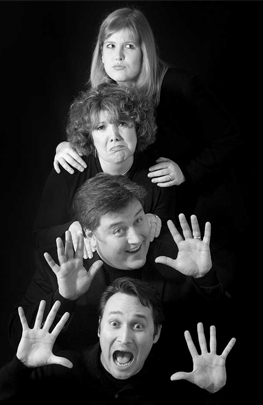 Moodswing is the newest configuration of some of the Bay Area's most moody jazz singers. Sweeps award winners and +4db founders Dave Duran and Juliet Green have put aside their differences to team up with mercurial couple Paul and Julie Ford of the Renaissance-Jazz sextet Without Measure. They have sung together, in brief stints in such groups as InFusion, Vocal Flight, Vocal Underground, Oarkland Jazz Choir, Siemens Microelectronics Stealth Band, and on Ward Swingle's Instructional video "Swingle Singing." Combined, Moodswing brings almost 20 years of community college vocal jazz experience to each performance. Photos, mp3s, and anger management techniques are available at www.moodswing.us.
2005 Bay Area Regional: Second Place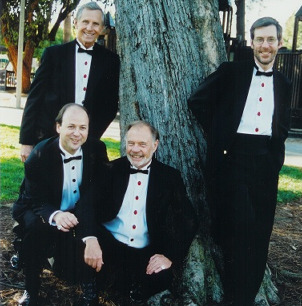 House Blend
'HouseBlend' is the new and exciting sound that has sprung up recently in the Bay Area. What exactly is 'HouseBlend?' They will tell you, 'We're four guys, we sing songs.' Sing indeed - a rich a cappella harmony with an abundance of rhythm and humor. They will sing anything from jazz, doo-wop, country and big band o opera, classical, barbershop and gospel. To our delight, their sleek delivery is becoming infectious to many groups in the area.'HouseBlend' came together through the music ministry at Concord United Methodist Church and they have been creating and defining their unique style for five years.
2005 Bay Area Regional: Third Place

'Samsara' is an A Cappella women's trio who unite fierce, extraordinary vocal music with passionate struggles for justice. They strive to connect the music of struggle, freedom and tradition, creating the new generation of the culture of resistance and empowerment. 'Samsara's' repertoire ranges from traditional folksongs, sea songs, worksongs and spirituals with new arrangements, to original music on current issues, all with tight, searing, dissonant and bittersweet harmonies and intricate vocal percussions.