2004 Bay Area Regional Winners: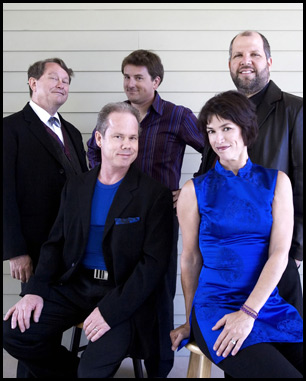 Creative precision through planning, skill and experience. A cappella from a jazz point of view. All arrangements are written by and for the members of the group, with influences drawn from Gene Puerling, Phil Mattson, Chet Baker, Charlie Parker and many others. "Their performance ranges from beautiful ballads to complex harmonized bebop lines normally only performed by an experienced saxophone section. From Latin grooves to hip shuffles, these five voices make the listener forget that there are no instruments playing. Their precise intonation and timing make a bass and drums unnecessary, and their arrangements leave a pianist with nothing left to add". - Hip Pocket, the magazine for jazz singers
2004 Bay Area Regional: Second Place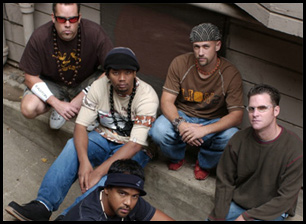 Three 5 & 6 is an urban a cappella band from Sacramento that utilizes the human voice to incorporate gospel, hip-hop, funk and rap into energizing, danceable music. This all male vocal band imitates the full depth of instrumental sounds found in a classic R&B or funk band as opposed to the traditional "blended, one-voice" A Cappella sound. Their powerful beats drive a truly dynamic musical experience that fully engages and energizes the listener. THREE 5 AND 6's full length debut CD,"Urban A Cappella" was released in December of 2003. Be forewarned! Their music can be addicting and habit forming.
2004 Bay Area Regional: Third Place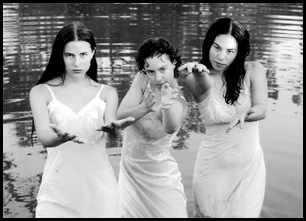 Copper Wimmin
Copper Wimmin is three obstreperous young women who set audiences on fire with their brilliant lyrics, haunting voices and fierce harmonies. They create a sacred hurricane of sound which leaves their audiences spellbound and often, in tears. Something about this trio is so cathartic that they create a buzz wherever they go. These vocal amazons have been singing together since they were twelve years old. They have evolved a sound so moving, so pure, that upon hearing them many recall a collective memory in which women sang together in caves and cathedrals before time began. Copper Wimmin are a sonic epiphany. They weave their voices together so expertly that it is hard to know where one voice ends and the other begins. The combined impact of the arrangements, lyrical content, and outrageous stage presence is that of a sublime sledgehammer effortlessly crashing through the door that separates the soulless from the sacred. These three sirens stir up something deep. Their message is at once cutting edge and ancient.