2003 Bay Area Regional Winners: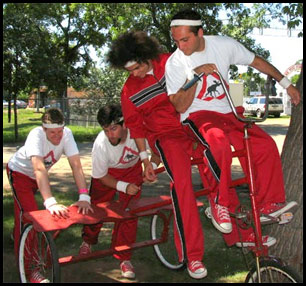 moosebutter is a wacky music ensemble from Provo, Utah. moosebutter croons about truth justice and the vegetable way. moosebutter loves peanut butter and igloos. moosebutter is just like a cutting-edge, hard-core hip-hop group, except moosebutter is from Utah, all white, not interested in controversy, and also doesn't perform hip-hop. Weston, however, does perform the "hip pop" when he does the splits. moosebutter likes you.
2003 Bay Area Regional: Second Place

Copper Wimmin is a trio of outstanding vocalists from Sonoma County who blend intricate rhythms and harmony together with fearless lyrics, creating a stunning and uplifting performance. Influenced by the soulfulness of Sweet Honey in the Rock and the powerhouse rage of Ani Difranco, the group has inspired audiences from coffee houses to concert halls. The members of Copperwimmin' became inseparable after singing together in a center of the Santa Rosa children's chorus. This childhood synergy has forged a body of original music and a unique style that is at once worldly and innocent. These elements combine to create a sound that is much bigger than a sum of its parts, a sound that enraptures and inspires transcendence. They are a cappella as a voice for truth.
2003 Bay Area Regional: Third Place

Intimate, witty and intelligent songsters, the award-winning Irrationals, are an a cappella ensemble acclaimed for their rich, complex vocal style. The delicious blending of their voices has been described as "cafˇ mocha for the ears." Singing together for almost twelve years, this five-member, Berkeley-based group is praised for its harmonic excellence and diverse repertoire. The Irrationals often perform songs about the unpredictable. They are dazzled by the irrationality of love, awed by the intuitive nature of life and intrigued by things that don t make sense.