2003 Bay Area Regional Winners: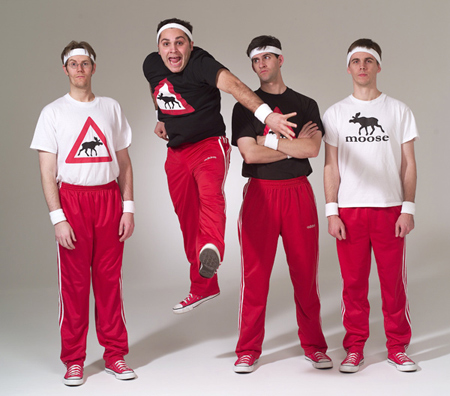 Moosebutter is a four-man comedy a cappella group. They have won awards from the Contemporary A Cappella Society(Best Comedy Song, 2004), The Harmony Sweepstakes (2003 International Finals runners-up), had their music included on compilation albums (Doctor Demento Basement Tapes 2005, Sing II 2005) and played live shows in front of audiences around the United States. Their tight harmony and eclectic humor have charmed audiences through two albums and countless live performances.

To handle all the performance requests they receive, moosebutter has several casts of performers. They perform with three, four, or five singers, depending on the show, and have done just about every kind of show you can imagine (Punk rock show? Check. National television? Check. Wedding reception? Check.).
2003 Bay Area Regional: Second Place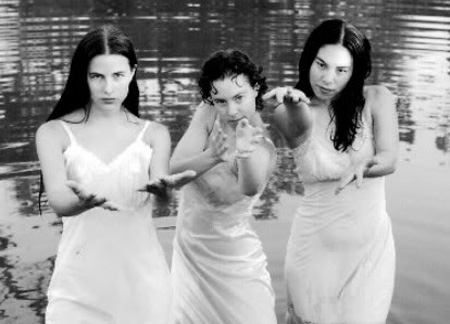 Copper Wimmin
Copper Wimmin are three obstreperous young women who set audiences on fire with their brilliant lyrics, haunting voices and fierce harmonies. They create a sacred hurricane of sound which leaves their audiences spellbound and often, in tears. Creating a buzz wherever they go, these vocal amazons have been singing together since they were twelve years old. They have evolved a sound so moving, so pure, that upon hearing them many recall a collective memory in which women sang together in caves and cathedrals before time began.

Copper Wimmin are a sonic epiphany. They weave their voices together so expertly that it is hard to know where one voice ends and the other begins. The combined impact of the arrangements, lyrical content and outrageous stage presence is that of a sublime sledgehammer effortlessly crashing through the door that separates the soulless from the sacred. Also appearing on the Bay Area Regionals stage in 1999, they were also finalists in the Lilith Fair talent search.
2003 Bay Area Regional: Third Place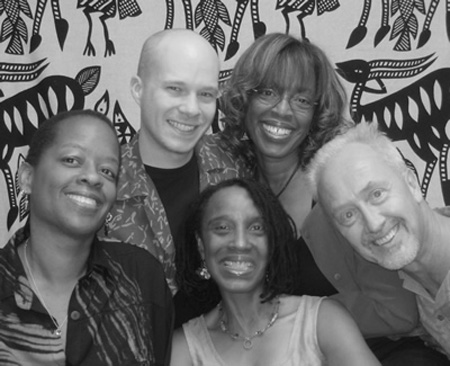 Irrationals
Intimate, witty and intelligent songsters, the award-winning Irrationals, are an a cappella ensemble acclaimed for their rich, complex vocal style. The delicious blending of their voices has been described as "cafe mocha for the ears." Singing together for almost twelve years, this six-member, Berkeley-based group is praised for its harmonic excellence and diverse repertoire. The Irrationals often perform songs about the unpredictable. They are dazzled by the irrationality of love, awed by the intuitive nature of life and intrigued by things that don't make sense.

The Irrationals' sound has an African American foundation that is used to explore pop, R&B, jazz, folk and rock. A core blend of three soulful women enhanced by bass, tenor and percussive vocal elements creates an exquisitely layered melodic mix. Whether it's Stevie Wonder with a rap twist, Annie Lennox, Talking Heads, the Neville Brothers or a romantic folk song, the Irrationals are playful, distinctive and sometimes irreverent.