2001 Bay Area Regional Winners: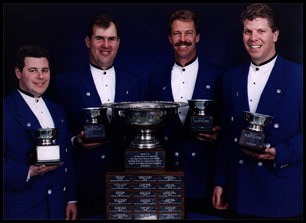 Freestyle
Current Champions of the Far Western District, barbershop quartet Freestyle are known for not only their great singing but also their zany antics, characterized as "a few fries short of a Happy Meal." Recently named Entertainment Champions at the prestigious Buckeye Invitational, their memorable show is sure to please, and members of the group have appeared on countless stages and milk cartons throughout the land. Tenor Todd Kidder recently gave up his dream of being the first 5 ft. 9 in. center of the NBA, while bass Bruce Morgan is the (Volvo) owner of a (Volvo) dealership in (Volvo) Santa Rosa, but does not use this venue (Volvo) for his own personal (Volvo) gain. Baritone Andy Wallace is an unassuming financial mastermind, collecting paperclips in his spare time. Lead Rich Brunner is the best-looking member of the quartet and his mother really loves him. ItŐs Freestyle entertainment tonight!
2001 Bay Area Regional: Second Place

The Kinsey Sicks are renowned throughout their own minds as America's Favorite Dragapella Beautyshop Quartet, and are beloved by Popes and taxidermists everywhere. Having assualted the sensibilities of tens of thousands of audience members at performances in the San Francisco Bay Area, the divas have increasingly been forced to tour the U.S. to find fresh victims. The gals first performed together as contestants in the Miss Teen-Pregnant America pageant, where they shared the Miss Congeniality award. After a brief stint as Menudo, they quickly compiled an impressive list of film and television credits, including fluffer duties for Regis Philbin and as chalk outline models for "America's Most Wanted." Thanks to the magic of sexual favors and strategically hidden video cameras, the Kinsey Sicks have received praise from critics across the country, and have won numerous music awards. They have performed for such luminaries as Slobodan Milosovic and Charo in esteemed concert halls and highway rest stops across the country.
2001 Bay Area Regional: Third Place

Hookslide is a 4 person, 5 part vocal rock band whose tight harmonies and driving, energetic sound are eclipsed only by their tight abs and the surprising fact that they are not all brothers. Hookslide came together in a brilliant flash of light in December 1999, and after months of planning and biweekly meetings in which all discussions were conducted in minor 7 chords, had it's first public performance in April 2000 for about sixteen people who were so mesmerized by the wiles of Hookslide that they built a giant ark to get them to the concert. Since then, Hookslide has successfully infiltrated a variety of underground societies and converted them to the ways of Hookslidism. They have become masters of the underworld, on occasion going so far as to wear vinyl pants, disguise themselves as monks, and pose as a boy band (not all at once) to gain entrance. To make future embarkations easier, Hookslide plans a recording project for later this year, that the victims may be conquered in the comfort of their own living rooms.