2000 Bay Area Regional Winners: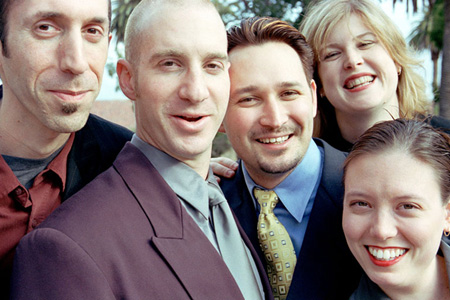 +4db
+4db is an a cappella quintet who's sound is as diverse as it is smooth. With a repertoire that ranges from jazz standards to contemporary pop, +4db straight-up swings and surprises. Formed in 1996, this award-winning ensemble makes its home in the San Francisco Bay Area. 1998 saw them champions of the Harmony Sweepstakes San Francisco Regionals, where they also earned Best Arrangement for the second year in a row. Their local success harbingered national accolades, with their memorable sound securing Second Place and Best Arrangement at the 1998 Harmony Sweepstakes National Finals. Judges aren't the only ones who dig the delicious harmony of these five voices. +4db has also won Audience Favorite each time they've participated in Harmony Sweepstakes regional and national competitions. +4db released their eponymous debut CD to much fanfare just this January.
2000 Bay Area Regional: Second Place

Calamity Jane
Calamity Jane is a female a cappella group whose seven members herald from around the Bay Area, including the East Bay, San Francisco, and the South Bay. The group performs its own unique, energetic arrangements of cover tunes ranging from 60's and Motown hits to current pop and rock songs. In 1999, Calamity Jane entered the world of original music and is proud to have completed three original songs which will they debuted in Fall 1999. In 1991, a few women who loved singing got together once a week to do just that. The members soon recognized that they wanted singing to be much more than just a casual hobby. They began performing on street corners and at open mike nights, and soon they had a dedicated following. In late 1993, many concerts, rehearsals, and auditions later, Calamity Jane became the group of talented and enthusiastic women it is today. The group has performed at venues such as the Freight and Salvage in Berkeley, Border's Books in Palo Alto, the Cable Car Theater in San Francisco, at the1993 and 1998 regional Harmony Sweepstakes, and on Mornings on Two with Steve McPartlan on KTVU. The group also works with Bread and Roses to give pro bono concerts to organizations such as homeless shelters and schools. Calamity Jane, in the fall of 1998, released its first CD entitled "The Road Ahead" which is a lively compilation of the songs the group has perfected over the last 5 years.
2000 Bay Area Regional: Third Place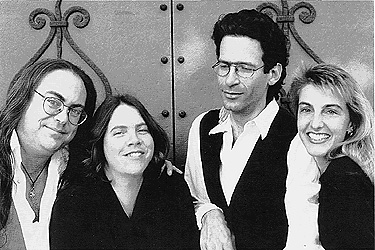 Vocamotion
"Voices to move the spirit" - VocaMotion is a contemporary upbeat a cappella quartet from Santa Cruz. Their eclectic repertoire of rock, folk, soul, blues, doo-wop and original tunes, along with their friendly on-stage chemistry will lift your spirits, have you tapping your feet, clapping along and laughing out laud. They can rock, reflect, inspire, and get silly. They love what they do, and you will too. They are bound together by their joyful commitment to the positive power of music to touch our hearts. They feel privileged to be able to offer their voices, and join with their with their audiences in the service of lifting the human spirit and having a good time.