1999 Bay Area Regional Winners: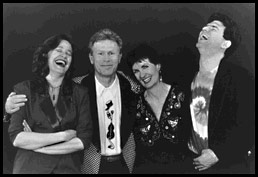 The Euphorics (U4X) are a joyous, energetic a cappella quartet, who, since 1983, have been delighting audiences internationally on radio, television, and concert stages, at schools, festivals, and special events of all kinds. Individually, members of the Euphories are powerful lead singers. Joani Bye (alto), fronts her own band, the Homewreckers, and her voice has graced countless albums (including those of Bon Jovi, David Bowie, INXS, and Cher). Helen Davis (soprano) leads her own jazz quartet and has backed up Doug and She Slugs, and Kathi Hof Donald. Nathen Aswell (tenor) is a free-lance vocalist/bassist and works with a wide variety of people (including artists Susan Crowe and Gary Fjellguard. The CARAS award for Best Children's Album of 1993 and the West Coast Music Award for Best Children's Album in 1998. Together, they create a rich and soulful blend with a repertoire of top-notch originals and innovative arrangements of covers in a wide variety of styles. The Euphorics celebrate their passion for music with plenty of humor and dynamic audience interaction.
1999 Bay Area Regional: Second Place

Freestyle
Freestyle is an energetic barbershop quartet that goes out of its way to provide beautiful music and memorable entertainment. They burst onto the music scene in 1996 by winning the Northern California Divisional Contest in their first public performance. Since then, they have entertained audiences throughout the country. They are the current and three-time Northern California Division Quartet Champions and were International Semi-Finalists this year at the International Barbershop Quartet Championships in Atlanta, Georgia.
1999 Bay Area Regional: Third Place

Kinsey Sicks launched their career as hair and makeup consultants for Mutual of Omaha's Wild Kingdom. After completing the Sally Struthers Correspondence Course in Musical Performance in five short years, the Kinsey Sicks captivated audiences in cabarets, crowded subway cars, and "accidentally" stalled elevators. The Sicks have performed to standing-room-only crowds in sitting rooms across the country. Their previous theatrical productions have included: Sicks-Tease, Sicks Appeal, Everything But the Kitsch 'n' Synch, The Kinsey Sicks, Back Despite Popular Demand, The Balled Sopranos: At Home with the Kinsey Sicks, and this year's Kinsey Sicks: GreatesTits. Their debut CD is available through Primarily A Cappella. The Kinsey Sicks wish to remind you that anything else you may have heard about them is a vicious lie.