1999 Bay Area Regional Winners:
Euphorics
The Euphorics (U4X) are a joyous, energetic a cappella quartet, who, since 1983, have been delighting audiences internationally on radio, television, and concert stages, at schools, festivals, and special events of all kinds. Individually, members of the Euphories are powerful lead singers. Joani Bye (alto), fronts her own band, the Homewreckers, and her voice has graced countless albums (including those of Bon Jovi, David Bowie, INXS, and Cher). Helen Davis (soprano) leads her own jazz quartet and has backed up Doug and She Slugs, and Kathi Hof Donald. Bing Jensen, bass, long-time Vancouver performer, winner of the 1993 CARAS award for best children's album and the West Coast Music Award for Best Children's album in 1998. David Steele, tenor, is a singer songwriter who has worked with numerous internationally recognized artists. Together, they create a rich and soulful blend with a repertoire of top-notch originals and innovative arrangements of covers in a wide variety of styles. The Euphorics celebrate their passion for music with plenty of humor and dynamic audience interaction.
1999 Bay Area Regional: Second Place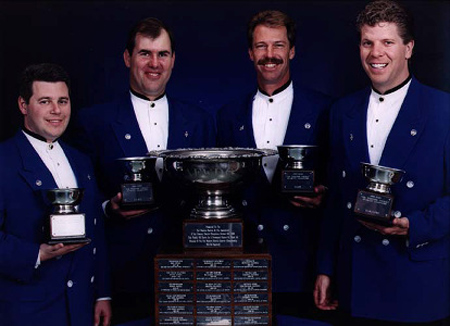 Freestyle
Freestyle is an energetic barbershop quartet that goes out of its way to provide beautiful music and memorable entertainment. They burst onto the music scene in 1996 by winning the Northern California Divisional Contest in their first public performance. Since then, they have entertained audiences throughout the country. They are the current and three-time Northern California Division Quartet Champions and were International Semi-Finalists this year at the International Barbershop Quartet Championships in Atlanta, Georgia.
1999 Bay Area Regional: Third Place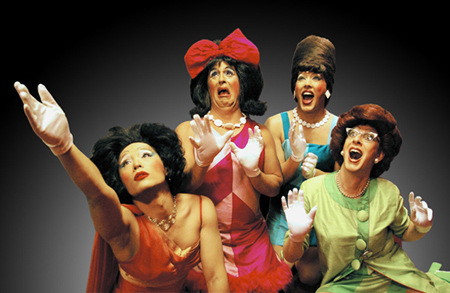 With a phenomenal performance record that includes an Off-Broadway show, an extended run in Vegas, two feature films, seven albums and appearances throughout the US, Canada, Mexico, Europe and Australia, the Kinsey Sicks hardly need an introduction. For over 16 years America's Favorite Dragapella Beautyshop Quartet has served up a feast of music and comedy to audiences at performing arts centers, music venues and comedy festivals in every kind of town you can imagine, in over 40 states! Their award-winning a cappella singing, sharp satire and over-the-top drag have earned the Kinsey Sicks a diverse and devoted following.