1997 Bay Area Regional Winners: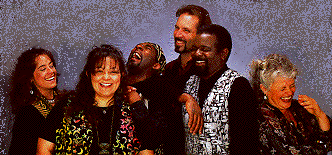 The SoVoSó repertoire consists of original compositions and other songs that present a global perspective, from Afro-Latin idioms to traditional jazz choral arrangements. Five SoVoSó members (Rhiannon, Joey Blake, Melanie Rath, Nicolas Bearde and David Worm) are alumni of Bobby McFerrin's a cappella choir, Voicestra, performing with him until 1993. Sunshine Garcia is the group's most recent addition, joining in 1995. As SoVoSó ("from the Soul to the Voice to the Song"), the ensemble has continued to pioneer new horizons in improvisational vocal performance. According to the San Jose Mercury News, "The extraordinary richness and brilliance of this virtuoso vocalism lifts you into a special realm."
1997 Bay Area Regional: Second Place

+4db
+4dB is a new Bay Area group that specializes in a cappella vocal jazz. They have been singing together for six months.
1997 Bay Area Regional: Third Place

They show us that they're far from slowing down with their eagerly anticipated self-titled debut release on Word Records. Under the capable Gary Moyers and The Acappella Company for production, Sweet Deliverance takes flight with this new CD and firmly entrenches itself as one of the premier all-vocal groups the industry has seen.