1997 Bay Area Regional Winners: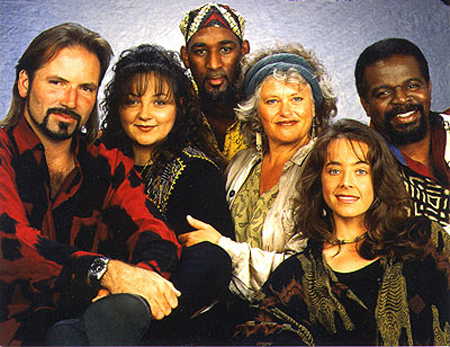 SoVoSo is a highly imaginative a cappella ensemble that sings a unique, rhythmic mix of jazz, gospel, world and R&B music, all rendered in their trademark improvisational style.

The SoVoSo repertoire consists of original compositions and other songs that present a global perspective, from Afro-Latin idioms to traditional funk and jazz arrangements. Two SoVoSo members (Joey Blake, past member, and current member David Worm) are current members of Bobby McFerrin's a cappella group, Voicestra, performing with him from 1993 to present.
Currently you will see David Worm, Sunshine Becker, Bryan Dyer and Zoe Ellis in this vocal band line-up, along with other great singers such as Nicolas Bearde, Ashling Cole and Vernon Bush. The SoVoSo family of singers continues to expand as this one of a kind musical project grows and flourishes.
1997 Bay Area Regional: Second Place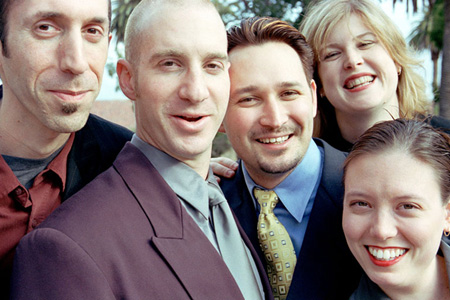 +4db
+4db is an a cappella quintet who's sound is as diverse as it is smooth. With a repertoire that ranges from jazz standards to contemporary pop, +4db straight-up swings and surprises. Formed in 1996, this award-winning ensemble makes its home in the San Francisco Bay Area. 1998 saw them champions of the Harmony Sweepstakes San Francisco Regionals, where they also earned Best Arrangement for the second year in a row. Their local success harbingered national accolades, with their memorable sound securing Second Place and Best Arrangement at the 1998 Harmony Sweepstakes National Finals. Judges aren't the only ones who dig the delicious harmony of these five voices. +4db has also won Audience Favorite each time they've participated in Harmony Sweepstakes regional and national competitions. +4db released their eponymous debut CD to much fanfare just this January.
1997 Bay Area Regional: Third Place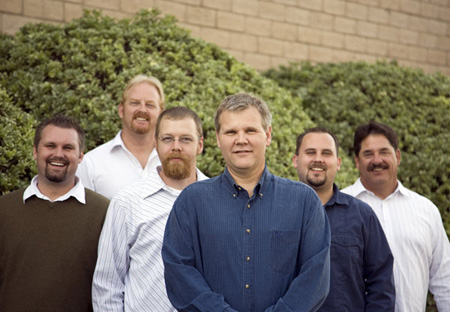 Sweet Deliverance has been singing Christian a cappella for over 30 years. Members have changed over the years but the tradition of tight harmonies and praise to our Lord has not. This semi-professional group is based in the San Francisco bay area and tours primarily in California. Originally, Sweet Deliverance began in 1976 at Oklahoma Christian by 4 young men, one of whom was Kevin Allsup. Kevin, the group's originator, grew up in Manteca, California, where they became based.

Their newest member is David's younger brother, Stephen Morgan. Both David and Stephen have an extensive singing background, as they have been singing a cappella music in their own family group for many years. Now, with six men and a new recording, they are lifting their voices for God's glory, in full force. Looking back, it is obvious that God has seen them through good times and bad, and they know that it is He who has given them the voices to praise Him. They continue to offer Him their lives, their songs, and their voices for the encouragement and the uplifting of Christ's church.