1993 Bay Area Regional Winners: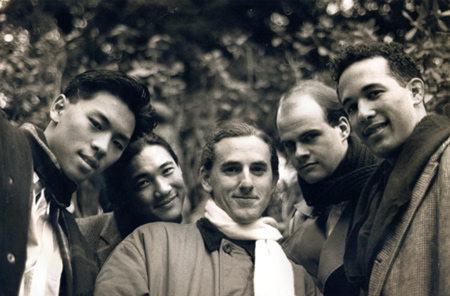 Quintessence (1993)
The spectrum of their musical style emerges from an unlikely meeting of diverse backgrounds. The five met in school at UC Berkeley where they each pursued different musical interests ranging from opera to jazz, from rock to chamber music. Accordingly, Quintessence creates arrangements that invite the ear to explore the vocal colors and nuances unique to this combo of influences. Their large repertoire, extending from French impressionism to "grundge-appella", grants them the unique ability to appeal to a broad range of tastes and audiences.
1993 Bay Area Regional: Second Place

Corner Market
Since their public debut last May, Corner Market has been winning raves for their intricate jazz/funk arrangements, laser-sharp harmonies, exquisite intonation and classy moves. Lead by Grammy-nominee Jason A. Smith, the group anchors its sound on the pops, snaps, crashes and cracks of master vocal percussions Vern A Smith. Ttopping off an appearanc with the Neville Brothers with a five-day run with jazz great George Benson, Corner Market went on to amaze crowds at music fairs and festivals around the bay and on local TV. Harmonically rich, rhythmically playful, Corner Market proved six vioices can indeen be a jazz/funk "band."